some silly things.
saturday, may 13th, 2023.
This has been a really busy, somewhat lifechanging week. I sold my old house and have been working through fully separating from my coparent. Kinda stressy, honestly.
But it's not been all serious! Two fun things happened. We replaced the utilitarian white mailbox that I installed (after our original got ran over) with a fun pink dinosaur one I ordered from Etsy: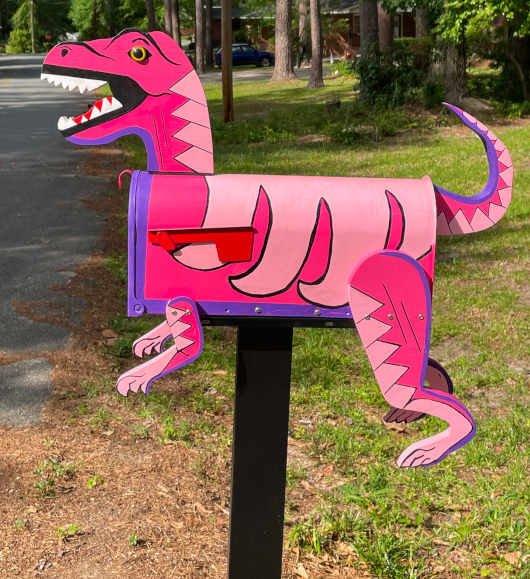 It's the talk of the neighborhood— couldn't be happier! I love anything that makes our house the weird one 😂
Other than that, we had ordered two chillbo shwaggins inflatable chairs and they came in Friday. I've been thinking about getting one since first seeing them at a music festival like 4 or 5 years ago.
Anyway, we tried 'em out this afternoon at the park near our house before the weather got too hot: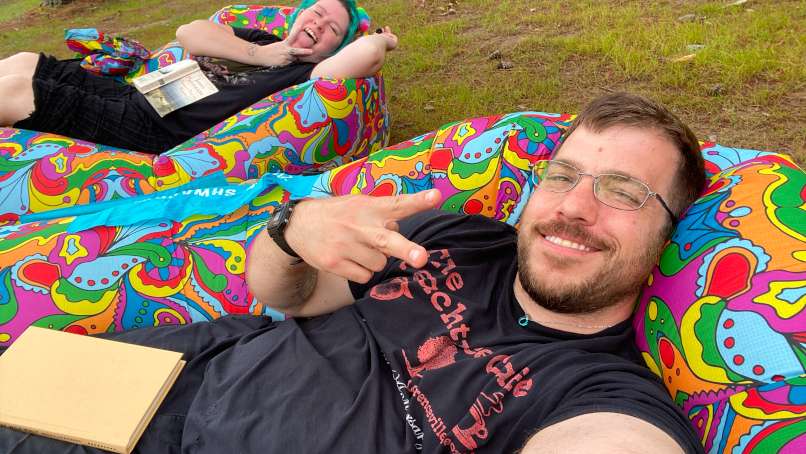 We were out there for a little over an hour reading our books and enjoying a cool spring breeze under the canopy of trees while the little one played on the playground. Happy to say that these things are incredibly comfy and we were relaxed as hell afterwards.
These things come in a little 3 lb bag and you inflate them by swinging them around and catching air like an oversized plastic grocery bag in the wind:
They come with patch kits, but the cloth has the tactile sensation and apparent durability of sail cloth. Fingers crossed we'll have these for many years to come whenever we feel like laying back on a lawn. In other words, perfect for outdoor concerts at festivals.
Suffice it to say we're super hyped to have these goofy chairs. I'll keep 'em in the car and we'll probably bring them to the beach and lake this summer.
That's all for now! Until next time, be well. :)