a day of shaky knees.
sunday, may 7th, 2023.
We got back from visiting Atlanta for Shaky Knees music festival a little while earlier today. Woo, what a weekend!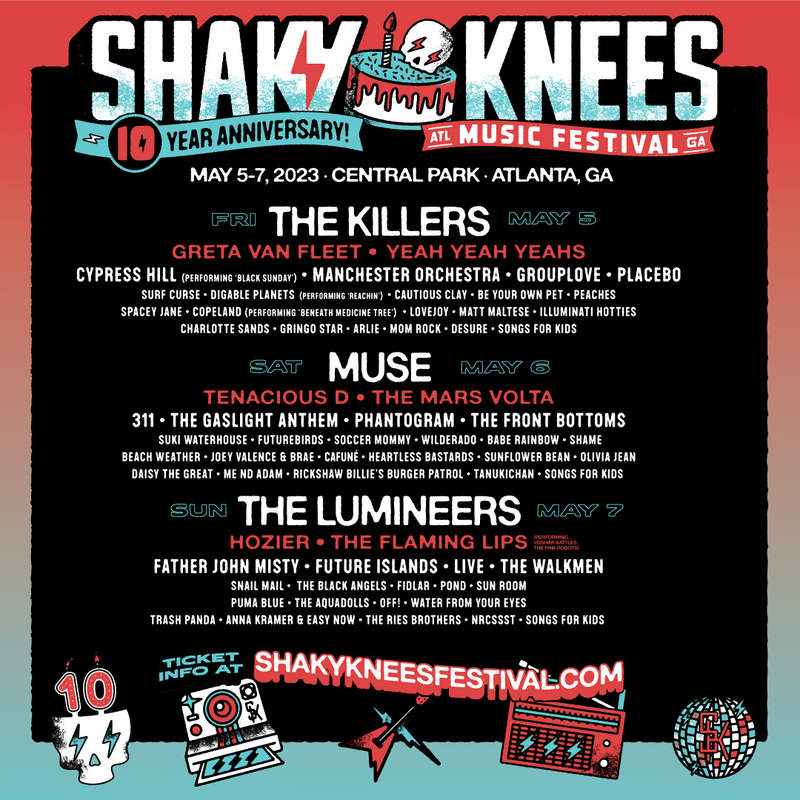 We were there for just the Saturday shows, which I wrote about last week.
We got to the festival a bit later than we expected, and spent the early parts visiting the merch booth and eating lunch. But! We looked the part, and my partner even sewed a custom made shirt for me to wear! It was so comfy, too!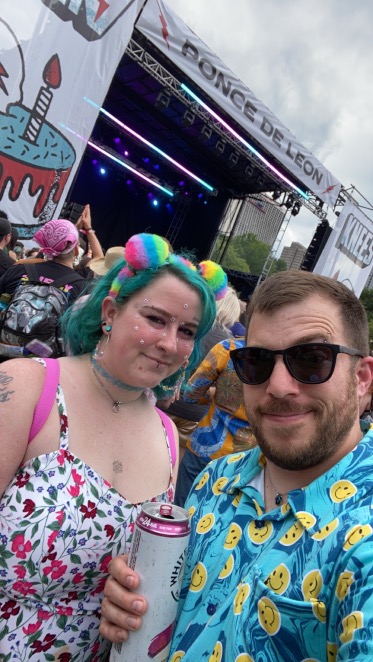 I didn't take too many pictures at the festival— I usually like to keep my phone put away during shows so we've only got a few pictures and short clips as mementos. Music is about making memories, anyway!
The first set we saw in earnest was Joey Valence & Brae's, which turned out to be pretty high energy on the Ponce stage. Here's what we actually made it out to:
Daisy the Great
Me Nd Adam
Rickshaw Billie's Burger Patrol (caught a little bit at the end)
Beach Weather
Wilderado
Heartless Bastards
Joey Valence & Brae
The Gaslight Anthem
The Front Bottoms (swapped to 311)
The Mars Volta (heard while waiting at the Piedmont stage)
Tenacious D
Muse (way too crowded to watch, so we left early)
I know it doesn't seem like we got to much, but we still had a good time. It was just hella packed, so we had to pick and choose the shows we wanted to get close to. We still heard a bunch of music, just not while standing in front of the stage. I think the Music Midtown festival being cancelled and the Sweetwater 420 Fest being greatly reduced had Central Park wayyyyy too overpacked for Shaky Knees.
We'll plan better for next year's festival. Get a decent hotel, wear comfortable shoes, and plan for a proper marathon of music. Hopefully it'll be less crowded next year. IMHO they should probably "sell out" tickets earlier and keep the festival small(er).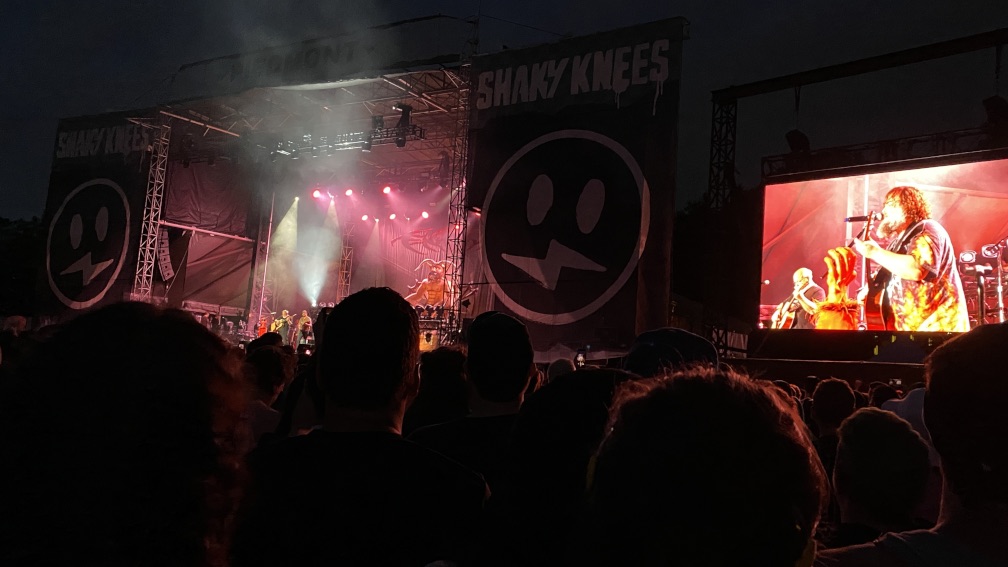 Tenacious D's set was everything we hoped for, though. God, that was a good time. They had a giant inflatable devil on the stage and Jack Black was wearing all flame-themed clothing to commemorate the beginning of their Spicy Meatball Tour. They did this thing where "Biff" the pyrotechnics technician kept fucking up the timing of the flamethrowers. They also debuted a song from an upcoming album, "Video Games," which was a hoot. It was a real good time.
Joey Valence & Brae brought some serious energy. It felt like they were channeling the Beastie Boys and they had a little mosh pit going. One of the pleasant surprises this year.
We didn't stick around for Muse's set at the end because we couldn't force our way into the bowl in front of the main stage after being up front for Tenacious D, but we did get to hear them play as we made our way to the festival exit. They were on point. Probably the tightest set of the night. It's a bit of a bummer that we couldn't position ourselves well for both Tenacious D and Muse.
I suppose it's a good festival if there's a few "you had to be there" moments! Not my favorite Shaky Knees (that goes to Spooky Knees in October 2021), but I'm hopeful that the crowd gets smaller next year!
Until next time, be well! :)