vegetable lasagna.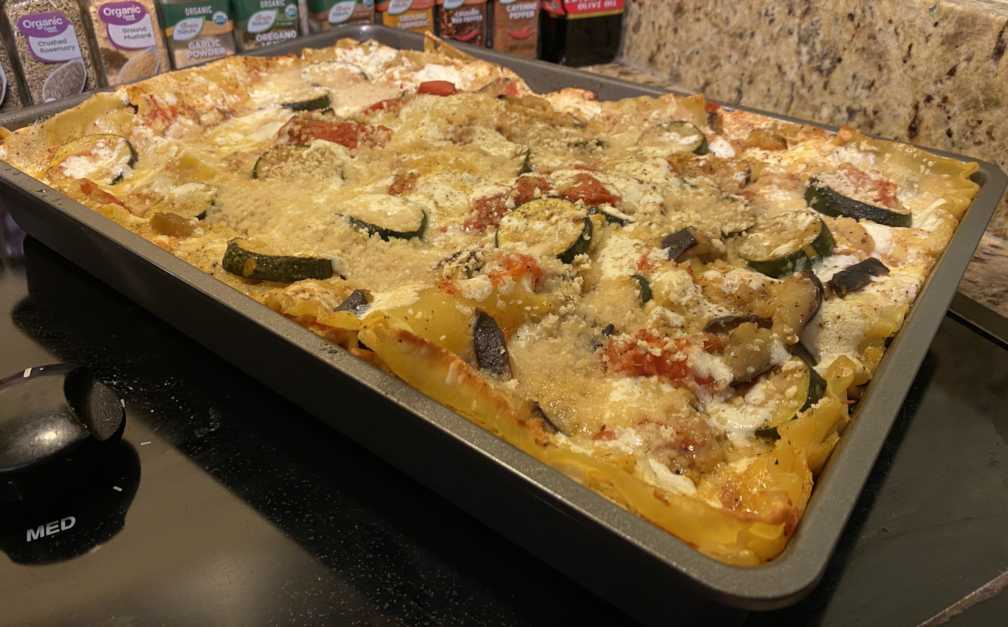 This is a slightly modified version of the vegetable lasagna recipe I got from The Joy of Cooking.
Makes one pan, or 8-10 servings.
Takes about 2-2.5 hours to prep and cook— longer if you can't fit two pans in your oven at the same time.
ingredients.
dairy & eggs.
1 pound ricotta cheese.
1 cup Parmesan cheese, grated.
1 pound mozzarella cheese, shredded.
2 large eggs.
produce.
1 eggplant, quartered and cut into ¼-inch-thick slices.
4 medium zucchini, cut into ¼-inch-thick slices.
3 pounds tomatoes, halved crosswise.
dry goods.
1 pound lasagna.
1 cup breadcrumbs (optional).
Ground nutmeg (optional).
preparation.
prep.
Preheat oven to 450°F.
Put sliced eggplant and zucchini in a roasting pan.
Pour over the vegetables:

½ cup olive oil.
1 teaspoon salt.
½ teaspoon ground black pepper.

Toss to coat the veggies.
Put halved tomatoes in another roasting pan.
Drizzle over the tomatoes:

2 tablespoons olive oil.
Generous amount of salt.
Ground black pepper to taste.
roast the veggies.
Roast the veggies for 20 minutes, toss with a spatula, roast for another 20 minutes.
Roast the tomatoes for 45 minutes.
Pour veggies and tomatoes together in a large bowl.
Lower oven to 375°F.
boil the pasta and mix the cheese.
Bring 8 quarts of water and 2 tablespoons of salt to a boil.
In a mixing bowl, stir together:

1 pound ricotta cheese.
2 large eggs.
½ cup grated Parmesan cheese.
½ teaspoon salt.
Ground black pepper to taste.
Ground nutmeg to taste (optional).

When the water boils, cook the lasagna noodles until barely tender.
Drain and separate the noodles and put them into ice water.
layer and bake the lasagna.
Stack the lasagna in a large pan! Three stacks as follows:

layer of noodles (bottom).
⅓ of the ricotta mixture.
¼ of the shredded mozzarella cheese.
2 tablespoons Parmesan cheese.
Ground black pepper to taste.
⅓ of the roasted vegetables (top).

On top of the third layer of roasted vegetables, add the remaining ¼ of the mozzarella, along with 2 tablespoons Parmesan cheese and 1 cup of fresh breadcrumbs (optional).
Cover the pan with aluminum foil and bake for 30 minutes.
Uncover and continue to bake until golden and bubbly, about 15 minutes.
Let stand for 15 minutes before serving. Good time to cook some garlic bread!